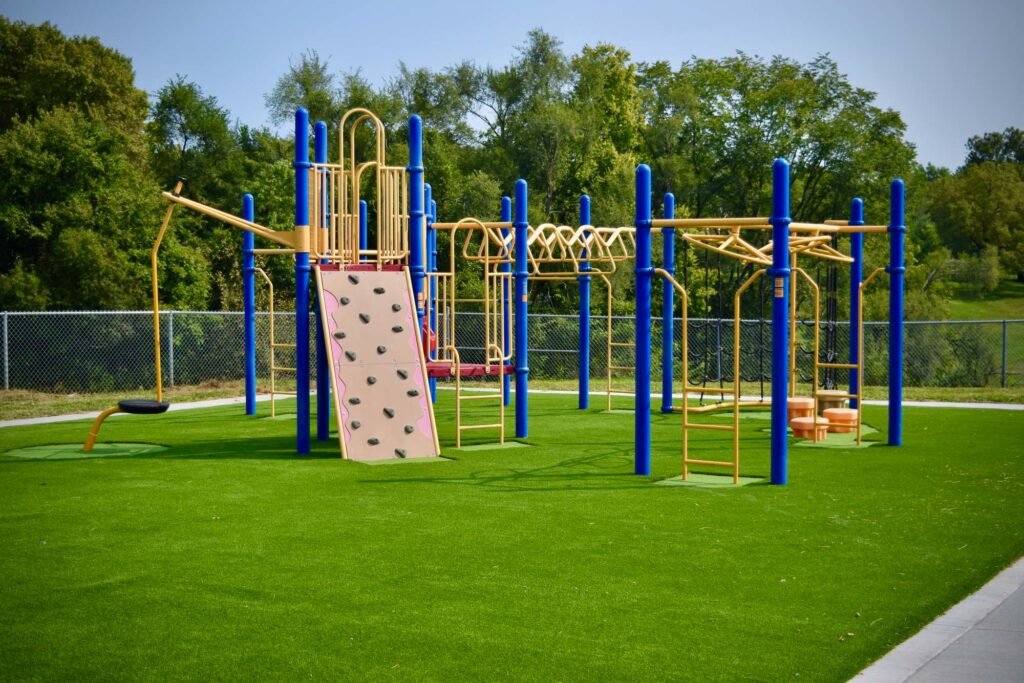 Contact Us Today For A FREE Estimate
Benefits of Artificial Grass for Athletic and Playground Surfaces:
Ease of upkeep
Consistent surface means fewer injuries and better play
Considerably less debris, mud, irregularities in surfaces
No down time for over-seeding, watering, mowing, fertilizing, maintenance keeps fields in use year round
Less expensive to maintain
No need for chemical fertilizers and herbicides
About SCOTT TURF's synthetic turf playground surfaces & sports fields services
Lush, Green Turf for Playgrounds and Sports Fields: Looks great year round, helps prevent injuries, minimizes mud and debris on the playing field. Installing premium quality turf in and around Charlotte, NC, & Charleston, SC
Use of artificial grass in playgrounds and sports fields has rapidly been increasing over the past several years for a variety of reasons.
Scott Turf's USA-manufactured synthetic turf is safe, highly durable and beautiful to look at. We utilize advanced installation techniques, performance padding, and high performance synthetic grass to deliver an extremely durable and functional surface that kids, parents, athletes, coaches, and everyone will love.
Commercial & Residential Playgrounds
If you have a commercial playground project, we have highly experienced installers, as well as the certifications needed to ensure your playground meets your requirements.
For residential installations, we offer backyard playground planning and installation that meets all your desires for both longevity and safety. Our artificial grass will provide your children with the safest area possible, while keeping your yard and house clean and mud free.
Sports Fields & Athletic Surfaces
Whether you have a commercial sports facility in need of synthetic turf, or you want to create a designated area of your backyard set aside for your favorite sport, we have highly experienced designers and installers to deliver a quality product.
We offer a variety of turf options designed for various usage. Our experienced designers will work with you to find the right turf for your usage. We can incorporate field lines like sidelines, goal lines, foul lines, batter's boxes and more. We can even have your team's or company's logo embedded right into the playing field. Call us today to discuss your options.